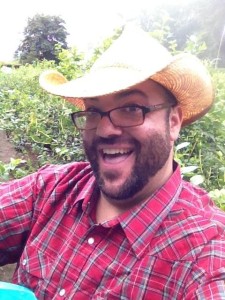 1) How long have you worked for The Jasmine Pearl?
Burk: 10 months! It's gone so quickly.
2) What do you do there? What does a typical day look like for you?
Burk: Assistant Retail Management, Special Projects, General Administrative tasks. Since Krista is on maternity leave my days are mostly retail focused. I reconcile the sales from the previous day. Do a little teaware ordering. Manage staff. Think about the future of Jasmine Pearl.
3) What attracted you to the world of tea? Tell us about the moment tea became special to you?
Burk: I was initially drawn to the breadth of flavor, the variation I could have in each cup. I fell in love with the small ceremony I would have each time I made myself a cup of tea, the ritual and contemplative nature. Brewing a cup of tea can be a moment to pause, to plan, to reflect.
4) What are your top 5 favorite teas at The Jasmine Pearl?
Burk: Ceylon, Jasmine Pearls, Chaz Chai, Lady Grey, Golden Needles
5) If you were a tea, what would you be and why?
Burk: A high grade version of something common, maybe a really nice English Breakfast. I'm better in the morning.
6) Tell a fun fact about yourself. What are your hobbies outside of work?
Burk: I'm happiest, sitting in the sun on my deck. Cocktail in hand, laughing and talking with people I love.
7) Tell us about a tea mishap or your proudest moment with tea.
Burk: Too many mishaps to count. I lost track ages ago.
8) What is your dream place to have a cup of tea and who would you like to share it with?
Burk: A cool spring morning, that I know will turn into a warm afternoon. I have the whole day ahead of me and nothing in particular that needs to be done. I can sit and drink my tea, thinking about all the good things in my life. As far as who I would share it with, someone fun who makes me laugh would be preferable!
9) What is your favorite way to brew tea? What tea ware do you use at home?
Burk: If it's hot, I'll use an a single cup infuser. If I'm making iced tea, a mason jar in the fridge overnight. I have more teaware than I probably should, and most of it doesn't get used often enough.