After water, tea is the most consumed beverage in the world. But there are many different ways to enjoy tea other than just by drinking it. Recently we had a staff wide challenge to create recipes that used tea as a major ingredient. Over the next few months we'll be posting these creations, one savory and one sweet, for your enjoyment. This month we have Golden Fire Potatoes and Hella Rich Earl Grey Lavender Brownies.
Enjoy!
---
Golden Fire Potatoes
By Caroline Smith
Ingredients
5 lb Yukon gold potatoes
1 oz Golden Fire Tea
1 Tbsp pepper
1 Tbsp turmeric
2 Tbsp olive oil
1 clove garlic minced
salt to taste
Instructions
Grind Golden Fire with a mortar & pestle to a uniform texture.
Cut potatoes into 1/2" cubes.
On medium-low heat, coat a pan or wok with 1Tbsp olive oil and garlic. Cook until garlic becomes fragrant.
Put potatoes in pan and drizzle with with the rest of the olive oil. Turn heat up to medium-high.
Add Golden Fire, turmeric, salt and pepper and turn potatoes to coat evenly.
Cook uncovered for 20-30 minutes or until potatoes are crispy outside and soft inside.
---
Hella Rich Earl Grey Lavender Brownies
By Jeri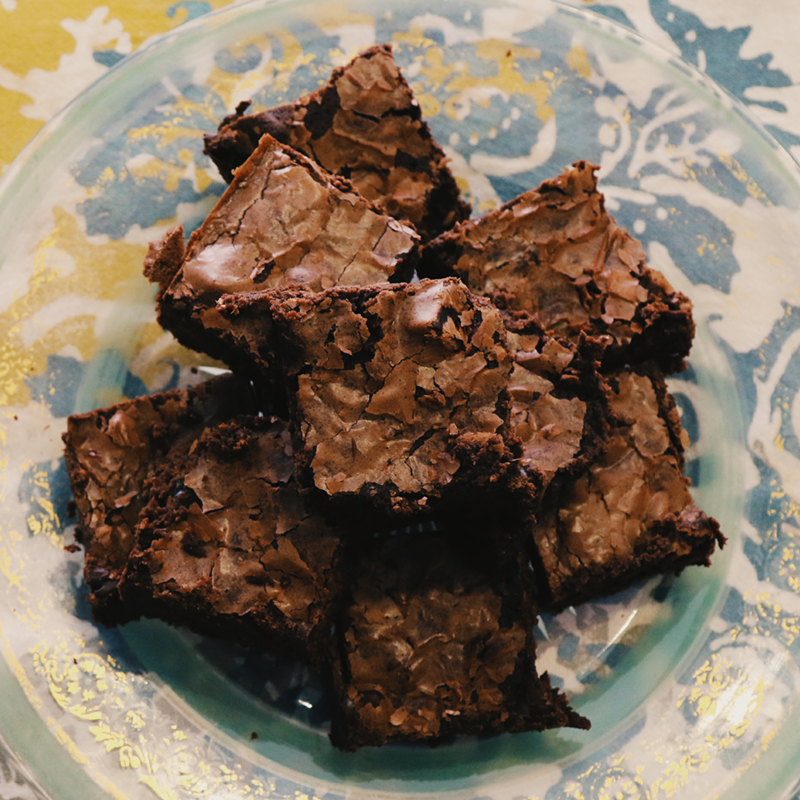 Ingredients
¾ cup flour
1 ½ Tbsp cornstarch
½ tsp salt
2 sticks butter
1 ½ cup sugar
1 ¼ cup unsweetened cocoa powder
3 eggs 1 ½ tsp vanilla extract
6 Tbsp Earl Grey Lavender tea (ground)
10 oz. semi-sweet (or dark) chocolate chunks/chips
Instructions
Preheat oven to 325° and grease a 9"x13" baking tray.
Mix flour, cornstarch, and salt in a bowl.
In a saucepan, melt butter over low-medium heat on stovetop.
Add sugar to the melted butter.
Sift cocoa powder into the sugar/butter mixture. Remove saucepan from heat and allow to cool for 5 minutes. Move the mixture into a bowl.
Add eggs one at a time into the cocoa mixture.
Add the vanilla extract, then the ground Earl Grey Lavender tea.
Fold in the rest of the dry ingredients (flour, cornstarch, salt).
Fold in chocolate chunks/chips.
Pour into baking tray. Mixture will be thick but do your best to flatten it out in the tray. Bake for about 25 minutes.
---
Have a recipe of your own that uses one of our teas? Send an email to retail@thejasminepearl with with a complete ingredients list, recipe and hi-res photos of your creation and we will test it out. If we love it we'll see about sharing your recipe (with all the credit and love) on our social media.