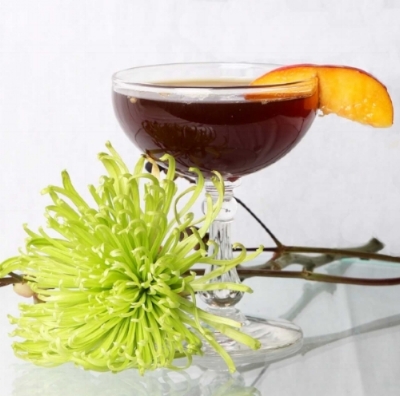 1.5 oz of Peach Vanilla Simple Syrup (recipe below)
1.5 oz Bourbon
Splash of Soda Water
1 Ripe Peach
Serve rocks in a highball glass or up (without ice) in a chilled cocktail glass.
Garnish with a fresh peach if in season.
Peach Vanilla Simple syrup (10 servings):
Steep 10 tablespoons (about 1oz) of The Jasmine Pearl Tea Co.'s Haiku Peach White Tea, using just enough water to cover the leaves. Steep for 5 minutes.
Strain the liquid from tea leaves, then add 5 oz of Pearl Soda Company Vanilla Rooibos Tea Syrup to the tea concentrate.
*Simple syrup can be kept for up to two weeks refrigerated.