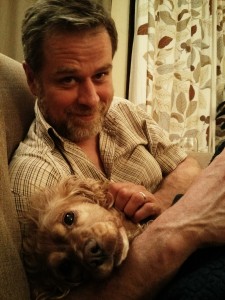 1) How long have you worked for The Jasmine Pearl?
Chuck: Since its inception/ideation, which was November, 2002, in a teahouse built out of an old, old Moorish bathhouse in El Albaicín (Old Town) in Granada, Spain.
2) What do you do there? What does a typical day look like for you?
Chuck: I typically do the importation, keep the books, and oversee the wholesale/blending branch of the business. My typical day varies. You might find me cupping samples for comparison and for eventual purchase; on another day, I might spend a few/several hours reconciling our books; then other days might see me having meetings and/or making sure orders are being filled and teas being blended and bagged. It really varies.
3) What attracted you to the world of tea? Tell us about the moment tea became special to you?
Chuck: I first had good tea while working at New Renaissance Bookshop, where I met Heather (Chuck's wife and co-founder of The Jasmine Pearl), incidentally. It was there that I first was exposed to jasmine pearls and I fell in love with them. I remember being enthralled by how the pearls unfurled in the hot water, to reveal little leaflets/buds attached to the long stem. And the fragrance and flavor blew me away. I ended up bringing pearls with me when we would go visit friends, so I could share their specialness.
4) What are your top 5 favorite teas at The Jasmine Pearl?
Chuck: Ooh, now here's a real stumper. Hmm. I will say
Tsuyuhikari
Ceylon
GABA Green
Dehong Ye Sheng Puerh,
GABA Oolong
5) If you were a tea, what would you be and why?
Chuck: Interesting question. I think I would be a high-mountain Taiwanese oolong because those leaves are really hardy, live at altitude, where there's lots of mist and beautiful views, and because I love them so much! My favorite category of tea is the oolong category – especially Taiwanese/Formosa.
6) Tell a fun fact about yourself. What are your hobbies outside of work?
Chuck: Fun Fact: I owned a vegetarian café in Cochabamba, Bolivia for a while. It was a really dramatic time. Hobbies are very simple: Meditating, relaxing, and reading.
7) Tell us about your proudest moment with tea.
Chuck: Probably when we imported our first big shipment. I was so excited – and it's the same excitement I feel every time we have shipments come in. I love it.
8) What is your dream place to have a cup of tea and who would you like to share it with?
Chuck: I would love to go back to that teahouse in Granada (it's called La Teteria El Bañuelo) and share a cup or two with Heather, so we could relive that moment when this idea was born.
9) What is your favorite way to brew tea? What tea ware do you use at home?
Chuck: I typically brew tea up each morning in one of our heavy glass Japanese side-handle pots and strain it through a stainless mesh infuser into my cup. We also use BeeHouse and FORLIFE ceramic and glass teapots when making tea for ourselves or guests. Heather just purchased us a FORLIFE French-style press, which I will be using more in the days to come….. At work, I have been known to simply throw the leaves into my mug and add hot water. It's a Taiwanese way of doing it – gets you closer to the leaves that way.