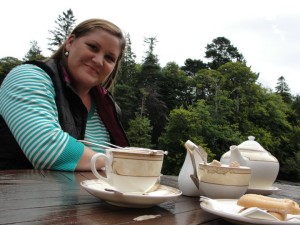 1) How long have you worked for The Jasmine Pearl?
Andrea: I left my draining corporate job to work at The Jasmine Pearl in November, 2014 and I am loving every minute of it!
2) What do you do there? What does a typical day look like for you?
Andrea: I absolutely love working at the tea bar! I get to meet customers and share my love of tea with them. In addition to that, I get to fill our web retail orders and maintain the website.
3) What attracted you to the world of tea? Tell us about the moment tea became special to you?
Andrea: Although I enjoy the smell of coffee, I have never been a coffee drinker. Like so many others, I do enjoy my caffeine though! That is what led me to drink tea, where I started with some really basic black teabags with milk and sugar. Then I branched out into flavored teabags and now that I have tried good quality loose leaf tea, I never want to go back!
4) What are your top 5 favorite teas at The Jasmine Pearl?
Andrea: French Breakfast was my first encounter with Jasmine Pearl tea and remains my favorite. Yellow Bird Ripe Puerh is a tasty way to help digest my lunch. Yellow Mudan has such a light and lovely flavor that I could drink it anytime. Our Spring Blossom Oolong was the first bitten oolong that I have ever tried and I am smitten! What a beautiful floral flavor it holds. I often drink the Aria blend (although not technically a tea, just herbal) before singing. It coats my throat and leaves me feeling calm and ready.
5) If you were a tea, what would you be and why?
Andrea: Jasmine Pearls. They have been showered with love (in the form of jasmine blossoms) from the beginning which has made them able to give love over and over (in the form of multiple steeps) as the little pearls open up. I have been incredibly blessed with an amazing tribe of loving people around me which empowers me to give back.
6) Tell a fun fact about yourself. What are your hobbies outside of work?
Andrea: There is so much world to see and I want to see all of it! I have lived in Ireland, Hawaii, California, Montana and Memphis. I have visited Germany, France, England, Hungary, Austria and Czech Republic so far. I have plans to see so much more! My husband and I are involved in a local choir (http://www.isingchoir.org/) that raises funds for local charities and tours internationally. I have been singing my whole life and wouldn't be whole without it. Recently, I have started drawing and painting as a way to break myself of my perfectionist tendencies.
7) Tell us about a tea mishap or your proudest moment with tea.
Andrea: A friend of mine insisted that all tea tastes like grass and refused to drink any. I was able to convince her to try one that I had and although I don't think she is going to start drinking tea everyday, she did enjoy it. That was a big accomplishment!
8) What is your dream place to have a cup of tea and who would you like to share it with?
Andrea:I want to try tea all over the world! Right now I am intrigued by the idea of having tea with a Moroccan family in their home. The traditional Moroccan tea preparation is so different from how I currently brew my tea and I am interested to learn from someone who does this daily.
9) What is your favorite way to brew tea? What tea ware do you use at home?
Andrea:At home I have an electric kettle that boils water for me in a jiffy! I use a basic glass teapot with an infuser basket that drops in the top. The teapot is big enough for me to make plenty of tea to share!