A commonly asked question here at the shop is "What tea is your favorite?" But that question can be hard to answer as it seems to change with the weather, one's mood, or even what someone ate for breakfast. In this new series of blog posts we have asked our staff here at the Jasmine Pearl that question. Over the next few months we'll post their answers here. Who knows, maybe you'll find a new tea to try!
This month we asked Kent what his pick is. Kent is our incredibly hardworking and talented Wholesale Administrative Assistant! His pick of the month is GABA Oolong!
---
Why do you like it?
K: Mainly, because it tastes like baked yams.
How do you brew it?
K: Hot, for three-five minutes, which usually gets me two good steeps out of the leaves.
Does it remind you of anything?
K: It reminds me of when I first started working here and I was trying to understand all the different flavor profiles. It was one of the first teas I thought I could drink everyday.
Is it particular to this season?
K: No, I'll drink it any time; night or day, and hot all the time.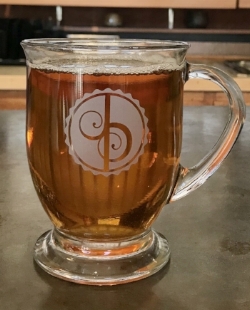 How does it make you feel?
K: Way energized! I generally drink it in the morning, it's my coffee alternative.
Does it help you do something?
K: Get through the day.
Do you pair it with any food?
K: ALWAYS peanut butter filled pretzels.
---
Produced from low-elevation Taiwanese oolong tea leaves, this tea contains a high percentage of Gamma-Aminobutyric Acid (GABA), known for having a calming effect on the nervous system. It has a wonderful, soothing flavor, said by some to be similar to that of ripe bananas; others liken it to baked yams.
GABA oolong, a partially "oxidized", nugget-style tea from Chiayi County, Taiwan, grows in the foothills of famed Mount Ali. It produces a caramel-colored, fragrant brew.
Tea plants are known to produce leaves especially high in glutamic acid. About two weeks prior to plucking, GABA oolong leaves are partially shaded, which causes increased production of this substance. During the oxidation-phase of production, all oxygen is replaced with nitrogen gas, whose presence causes the glutamic acid to be converted to Gamma-Aminobutyric Acid.
To meet Japanese standards and be labeled GABA Tea, the finished product must contain at least 150mg of GABA per 100g dry weight.