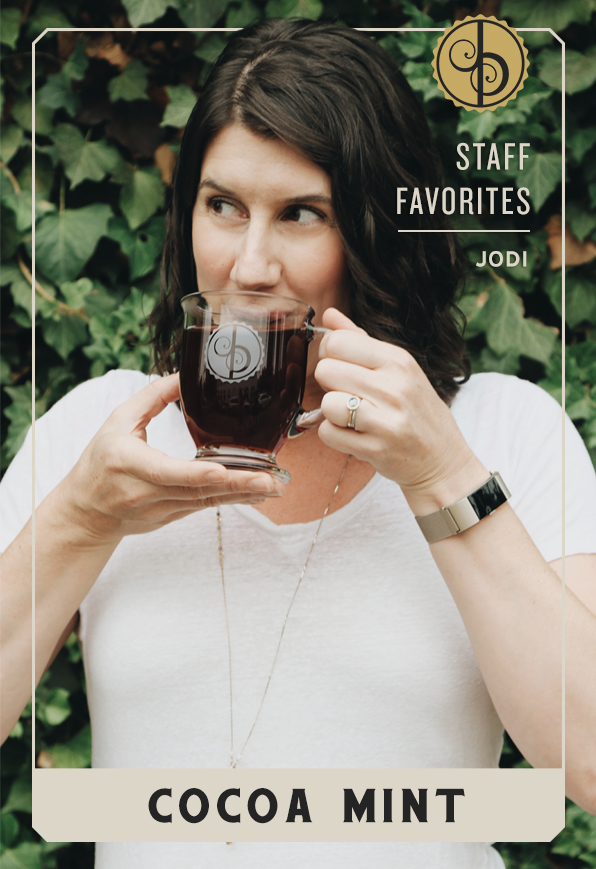 A commonly asked question here at the shop is "What tea is your favorite?" But that question can be hard to answer as it seems to change with the weather, one's mood, or even what someone ate for breakfast. In this new series of blog posts we have asked our staff here at the Jasmine Pearl that question. Over the next few months we'll post their answers here. Who knows, maybe you'll find a new tea to try!
This month we asked Jodi what her pick is. Jodi is our Wholesale Accounts Manager and Brand Ambassador! Her pick of the month is Cocoa Mint!
Why do you like it?
J: It's not the typical chocolate minty tea, because it also has puerh which adds more complexity. I love the cocoa nibs with the local peppermint and then the vanilla ties it all together. It's like a thin mint in a cup!
How do you brew it?
J: Really hot, 208°F for 3-5 minutes usually. I've happily found the longer you steep this tea it doesn't become bitter because of the puerh base. It's fool proof and flexible.
Does it remind you of anything?
J: My dad, it strikes a childhood memory of him picking up Girl Scout cookies for us.
Is it particular to this season?
J: Yes, I like seasonal pairings.
How does this tea make you feel?
J: It's satisfying because of the chocolate and also, kind of comforting.
Does this tea help you do something?
J: It helps me be happy.
Do you pair food with this tea?
J: It pairs great with dessert!
---
Our Cocoa Mint is a decadent dessert blend of cacao nibs, carob and vanilla, accented with peppermint and combined with Indian black and Chinese puerh teas. It is a rich and full-bodied tea with an enticing chocolatey aroma. Excellent with milk!