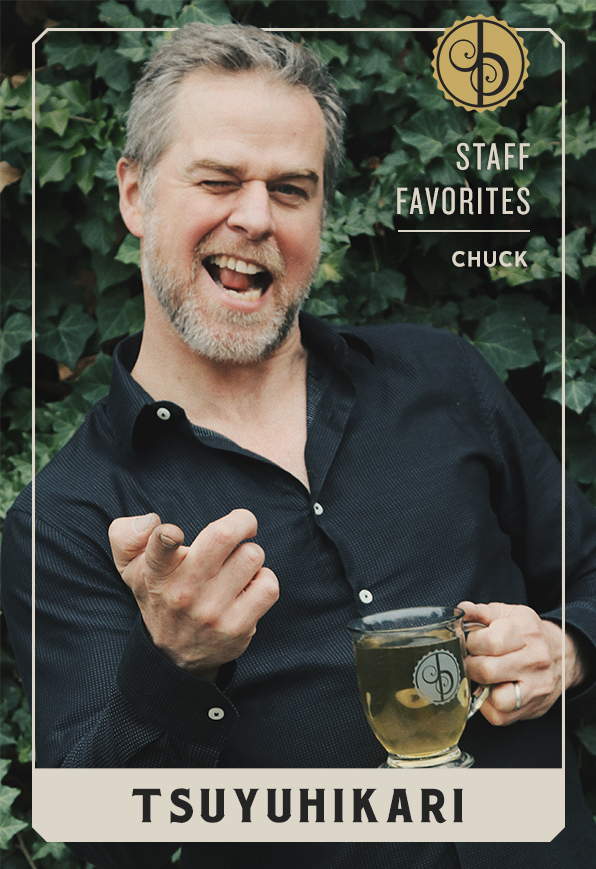 A commonly asked question here at the shop is "What tea is your favorite?" But that question can be hard to answer as it seems to change with the weather, one's mood, or even what someone ate for breakfast. In this new series of blog posts we have asked our staff here at the Jasmine Pearl that question. Over the next few months we'll post their answers here. Who knows, maybe you'll find a new tea to try!
This month we asked Chuck what his pick is. Chuck is our Co-Founder and COO! His pick of the month is Tsuyuhikari!
Why do you like it?
C: For its flavor! It's such a brilliant tea, it's so well made. Plus, we have a great relationship with farmer Konishi-san
How do you brew it?
C: I use my eye-ball meter, so fairly strong, farmer-tea style like Konishi-san. Two-three minutes at 180° F.
Does it remind you of anything?
C: I get absorbed in it, it reminds me of the present moment. To be where I am.
Is it particular to this season?
C: No, I'll drink it any time. I don't mind hot tea in the summer or cold tea in the winter.

How does it make you feel?
C: Gentle. Until I've drunk a lot of it.
Does it help you do something?
C: Helps me do everything except sleep.
Do you pair it with any food?
C: I don't, I don't mix my pleasures.
---
Tsuyuhikari is a 'pure tea,' meaning all the tea leaves were plucked from one cultivated varietal, the Tsuyuhikari hybrid. In other words, it is not blended.
Tsuyuhikari, meaning "shining dew," has a sweet taste and salty aromas of pelagic scents, seaweed, and summer maritime shores. Tsuyuhikari comes from the Shizuoka Prefecture of Japan and is grown for us by the amazing tea farmer Konishi-san.