After water, tea is the most consumed beverage in the world. But there are many different ways to enjoy tea other than just by drinking it. Recently we had a staff wide challenge to create recipes that used tea as a major ingredient. Over the next few months we'll be positing these creations, one savory and one sweet, for your enjoyment. This month we have Dark Forest Pork Loin and Black Wolf Cake.
Enjoy!
---


DARK FOREST PORK LOIN BY CAROLINE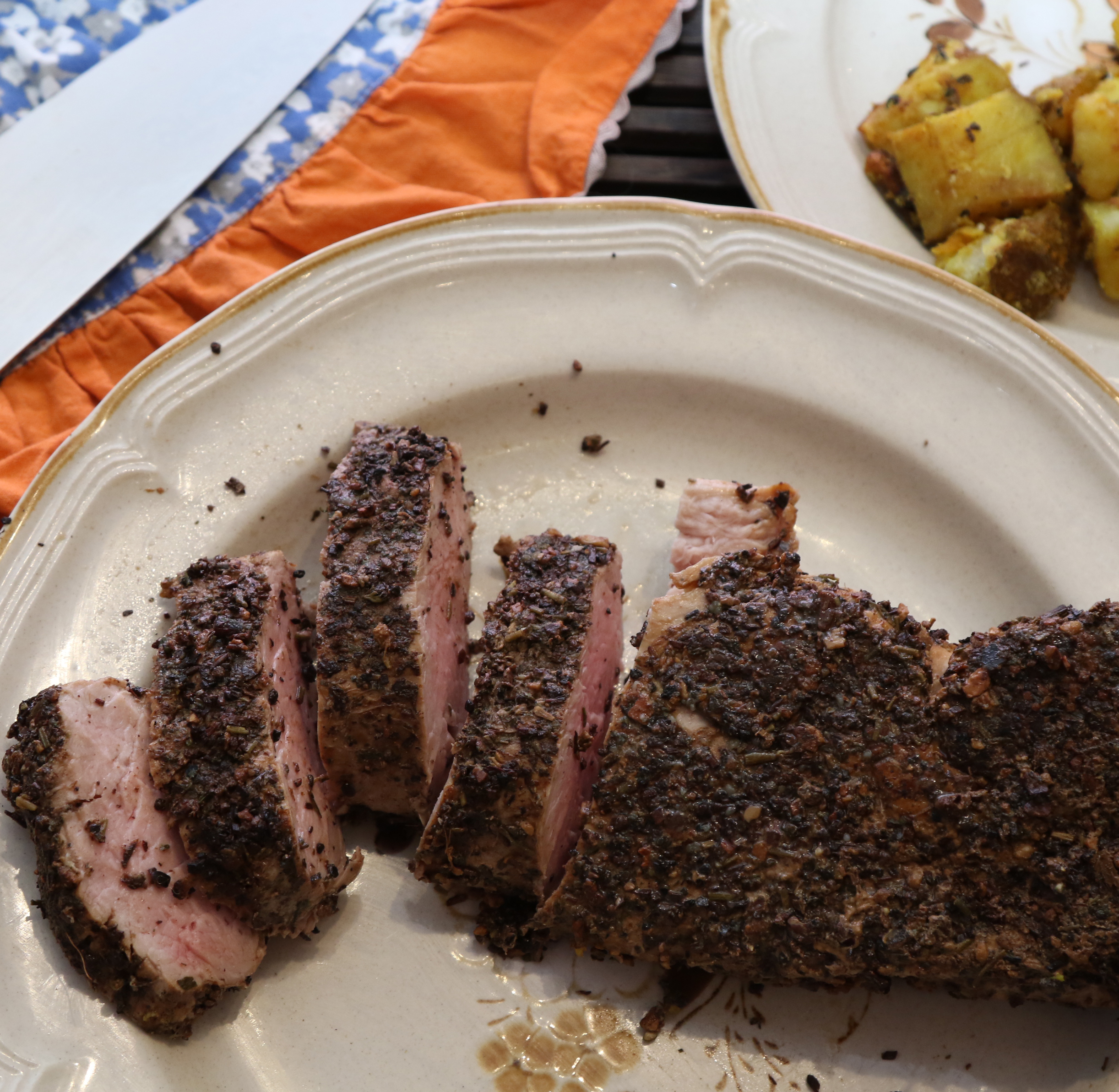 Ingredients
Pork loin
1 oz of Dark Forest Tea for every lb of pork
1 Tbsp olive oil
salt & pepper to taste
Steps
Preheat oven to 450°
Crush Dark Forest tea with mortar & pestle to a uniform texture.
Coat both sides of the loin with the Dark Forest rub.
Place olive oil in a pan and heat to medium-high.
Sear each side of the pork loin for 4-5 minutes (8-10 minutes total)
Wrap loin in aluminum foil and bake in oven for 20 minutes.
Remove from oven and allow to rest for 5 minutes.
Cute into 1" slices and serve.
---


BLACK WOLF CAKE BY NIGEL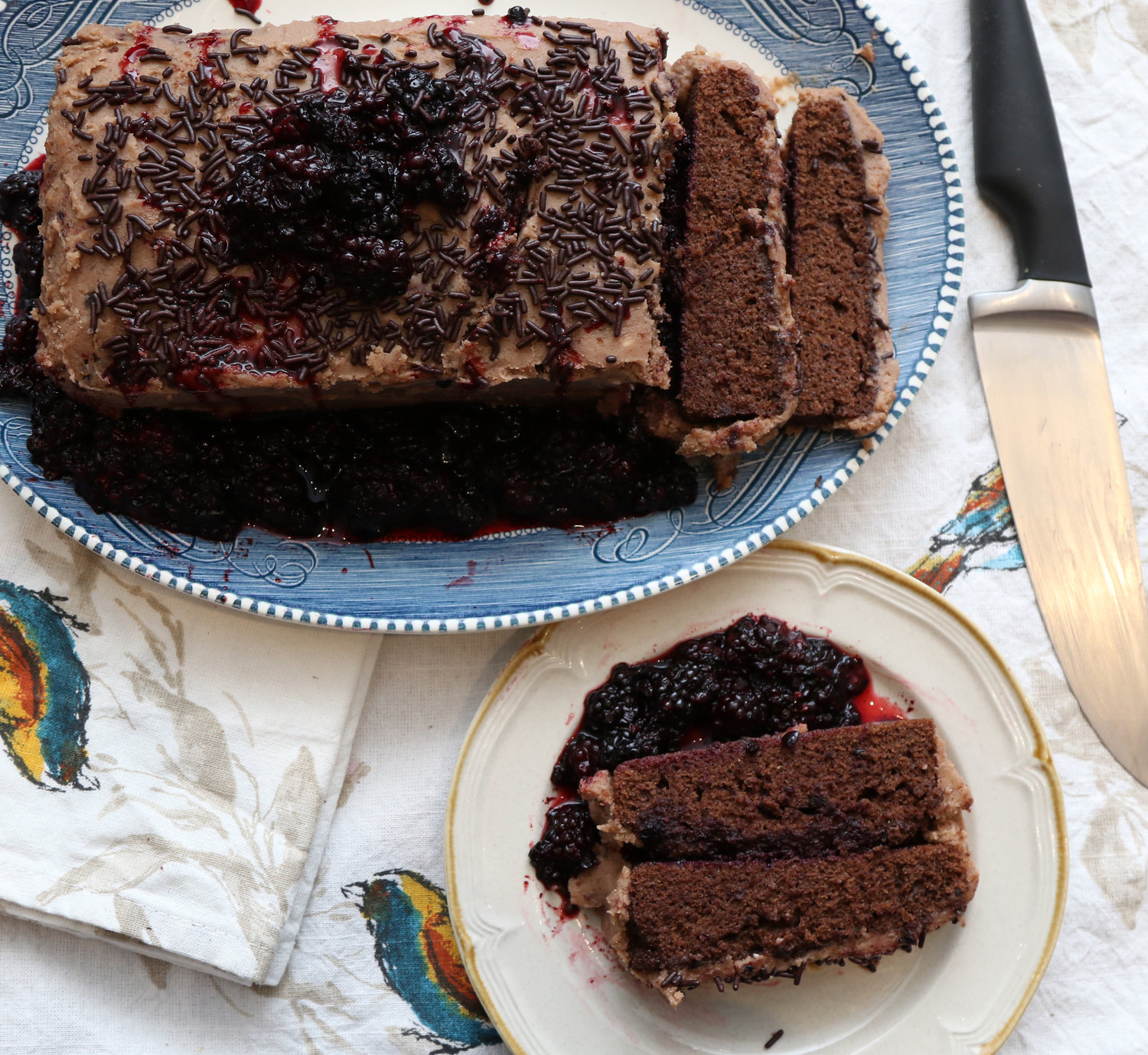 Ingredients
1 3/4 cup All purpose flour
2 cups White sugar
3/4 cup unsweetened cocoa powder
1 1/2 teaspoons baking powder
1 1/2 teaspoons baking soda
1 teaspoon salt
2 eggs
1 cup milk
1/2 cup vegetable oil
2 teaspoons vanilla
1oz Black Wolf Tea
1 cup and 3 tablespoons hot water
1-1 1/2 cup blackberry compote (or fresh berries with a good amount of the liquid squeezed out)
1 batch of the cake frosting recipe listed below
Steps
Preheat oven to 350F
Grease and flour two 9in round pans.
Make a strong cup of Black Wolf tea by combining the tea and hot water, allow to steep for at least 5 minutes reserve the 3 tablespoons of strong tea for later.
In a bowl add the sugar, flour, baking soda, baking powder and salt. Sift in the cocoa powder and stir to mix
Add the eggs, milk, oil, tea, and vanilla and mix for 2 minutes on medium mixer speed (or vigorously by hand
Pour evenly into the two pans
Bake for 28-30 minutes, check with toothpick through center of cake for doneness
Cool in pans for 10 minutes
Remove from pans and allow to cool complete on a wire rack
Once cooled completely use frosting to put a thin layer on top of first cake round
Spread berry compote on top of the thin frosting layer
Add second cake round
Use the rest of the frosting to cover the cake
---
Cake Frosting
Steps
Sift the cocoa into a bowl with the butter and whip them together until smooth
Stir in vanilla and powdered sugar
Slowly add cold tea until desired consistency
Whip 1-2 minutes until smooth again and then it is ready to use
Ingredients
1 cup softened butter
1/2 cup cocoa powder
3 1/2 cups powdered sugar
1 teaspoon vanilla
3 tablespoons cold Black Wolf tea
---
Have a recipe of your own that uses one of our teas? Send an email to retail@thejasminepearl with with a complete ingredients list, recipe and hi-res photos of your creation and we will test it out. If we love it we'll see about sharing your recipe (with all the credit and love) on our social media.