WHAT IS WU‐WO
An egalitarian tea ceremony rooted in Gong‐Fu style small pot brewing, "Wu" means void or complete emptiness, and "Wo" means self or being. The heart of Wu-Wo is that everyone participating in the ceremony is equal; there is no rank or hierarchy based on knowledge, wealth, or appearance.
THE HISTORY OF WU‐WO
Wu­‐Wo was created in Taiwan during the 1980's as a way for people from all walks of life to get together and enjoy tea as equals. Participants sit in a circle, often on the ground, and serve tea through a specific set of rules. Participants serve tea that they brought but receive different tea from other people in the group. This enforces the concept of giving without expectations.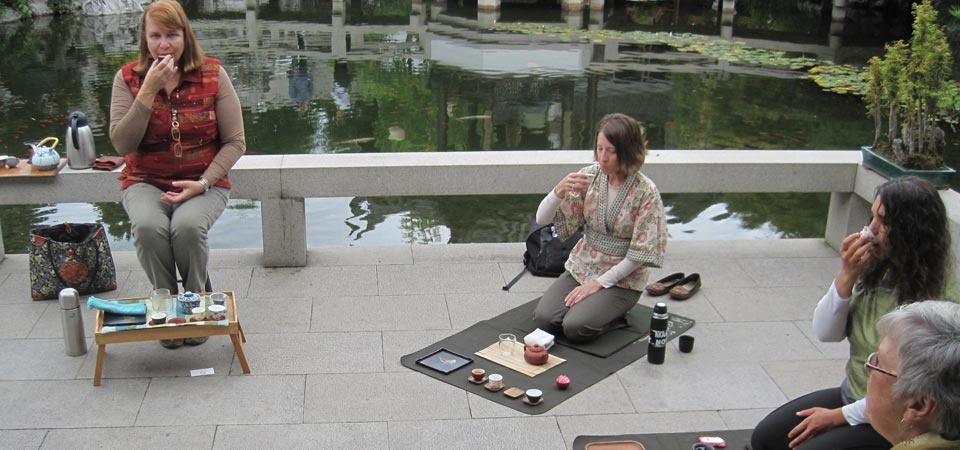 HAT TO EXPECT DURING A WU-WO CEREMONY
A Wu‐Wo ceremony ideally takes place outside so that the participants can enjoy nature while sipping tea. Seating is determined by random drawing. There is no one person in charge; rather the participants abide by the predetermined rules. Each person sets up tea pots for brewing. Tea is served in one direction but received from the other. Participants are encouraged to keep an open mind and a positive attitude as they try different teas and experience different brewing styles.
If you would like to learn more about Wu-Wo, check out The NW Wu-Wo Tea Association'swebsite for more info and a list of events, or join us at The Jasmine Pearl on March 31st for a special Intro to Wu-Wo event that is perfect for those interested in experiencing this fascinating practice in an informative and beginner friendly environment.
Contributed by: Caroline Smith
RESOURCES